Everyone has a right to enjoy romantic and sexual relationships, but for people with Down syndrome and intellectual disabilities, these basic rights are too often considered taboo. People with Down syndrome are often infantilised and perceived as "forever children", and in many ways shielded from the experiences of adulthood, including sexuality. Over the last few decades, many stereotypes surrounding disability have been challenged and shattered. It is now time to break down the last one still standing.
Big Questions and Short Answers on Sex,
Down Syndrome and Sexuality
What is a romantic relationship?
There are a lot of different kinds of relationships: family, friends, professional and romantic relationships.
A romantic relationship is a special relationship with someone you are attracted to. You might want to hug or kiss them, or touch their bodies, or have sex. This can be exciting, and sometimes a little bit confusing.
You are in a romantic relationship when BOTH people in the relationship say "yes" to being in the relationship. You are not in a romantic relationship because you are attracted to someone.
Sometimes romantic relationships might also become sexual relationships, but this can only happen when both partners say "yes" and agree.
Can people with Down syndrome have sex or be sexually attracted to others?
Yes! People with Down syndrome have the same needs and desires as people without Down syndrome. In adolescence and adulthood, they might wish to have a boyfriend or girlfriend, be physically close to their partner, kiss, and have sex. Needs may vary from one person to another, as for all other individuals.
Do people with Down syndrome have the same physical development as their peers?
Yes! People with Down syndrome also go through puberty and body changes! It is important to understand these changes, because they can be confusing. Many new hormones and new body developments can be confusing for anyone and for people with Down syndrome. It is important to guide them along this growth path in the transition from infancy to adulthood.
When can we start talking about relationships and sexuality?
The topic of relationships and sexuality can be tackled from an early age because it spans our entire life, but there may be different types of conversations depending on a person's age and understanding. Make talking about relationships and sexuality a natural part of your family and life. Make it easy to talk about, so that it's comfortable to talk about real problems, confusion or issues if they happen. Discussing sexuality with people who play an important role in our life, we learn how to build healthy, safe romantic and sexual relationships, how to respect ourselves and others and to develope safe, fulfilling relationships at an appropriate age.
Can people with Down syndrome have a sexual relationship?
Yes. People with Down syndrome can have sexual relationships. As for all of us, the decision to have a sexual relationship must be made freely, without pressures and within a relationship among equals and respectful of each other's needs and rhythms. A fulfilling and healthy sexual life requires clear and accessible information on how our body works, how to recognize our feelings and those of our partner, as well as on contraception
Is there special contraception for people with Down syndrome?
No. People with Down syndrome do not have special contraception, because their bodies work the same as people without Down syndrome. General contraception is what should be used. Make sure to go to the doctor to find contraception that works for you. It is important to teach young adults with Down syndrome that being intimate and having sex with another person is exciting, but it can lead to consequences, like un unwanted pregnancy or a sexually transmissible infection.
Can people with Down syndrome get pregnant?
Yes. Men have a significantly lower fertility rate compared to other men of the same age, and their fertility can be assessed through a sperm count test. Women with Down syndrome have the same probability of getting pregnant as other women. It is therefore important to consider contraception to avoid unwanted pregnancies and avoid sexually transmitted infections.
Do people with Down syndrome masturbate?
Masturbation is part of a normal process for all human beings of getting to know their body and their sexuality. Masturbation is a sexual activity to do when no one else is around, it is private. It is therefore crucial to teach a safe, respectful, and healthy approach, both to make sure that it occurs in appropriate circumstances and places.
By discussing sexuality with a person with Down Syndrome do we run the risk of eliciting an inappropriate sexual behavior?
No. Appropriate and comprehensive relationships and sex education can help a young person with Down syndrome to pursue fulfilling, safe, healthy and respectful relationships, and to participate fully in society and their community. It is crucial to ensure that people with Down syndrome have access to education about social conventions, to respect privacy, assess situations and learn to say no and understand the concept of consent.
An appropriate, positive and comprehensive sexual education helps preventing unwanted pregnancies, sexually transmissible infections, and helps young people to recognize potential situations of abuse.
Can people with Down syndrome be attracted to people of the same gender?
Yes. People with Down syndrome can be attracted to anyone, just as people without Down syndrome can be. Many people are attracted to people who are the opposite gender to them. Some people are attracted to people of the same gender: for example, a man may feel attracted to another man or a woman to another woman. There are a lot of different sexualities, and it can be confusing to work out one's feelings and sexuality. Talking about this with someone we trust can help us understand and get to know ourselves better.
Can a person with Down syndrome have a romantic/sexual relationship with a person without Down syndrome?
Yes. A person with Down syndrome can have a romantic or sexual relationship with anyone, with or without Down syndrome. It is important to make sure there is equality and respect between each other and that no one is being taken advantage of.
Does it make sense for a young woman with Down syndrome to go to a gynecologist even though she is not sexually active?
Yes. She should make sure her vagina and her body is healthy. Just as with any other medical examination, a gynecological examination is useful to check a woman's health condition, whether sexually active or not.
What is consent?
Consent is a type of permission that someone gives for something to happen. For example, accepting to be hugged, accepting to be kissed, accepting a date, accepting to have sex.
Consent must be given only when you really want to do something, and not when you feel that you have to because someone else wants it, because you are afraid of hurting the other person's feelings or because you do not want the other person to get angry.
What is abuse?
Abuse is a form of violence enacted by someone who does or insists on doing something against the other person's will or without consent. Abuse can also be when someone physically or verbally hurts someone else. People with intellectual disabilities can be at more risk of abuse due to factors tied to their condition, but also because of an educational approach that leads them to develop dependency relationships where all decisions and choices are made by another person. Therefore, some people may be more easily convinced to do things, even those they may not want to do, by people they see as being more capable, or they may mistake flattery for courting, rather than abuse. Conversely, if they are supported to develop good self-awareness, and to recognize what is ok for them and they are engaged in decisions that concern them, they will be better equipped to understand situations that may place them at risk of abuse and ask for help when they perceive a difficulty.
Is sexuality just having sexual intercourse?
Sexuality is more than just penetration alone; sexuality is a set of gestures, attitudes, emotions, feelings that each of us expresses in their own way, but that can be important for our individual wellbeing. To have fulfilling romantic relationships, it is important to support the emotional and sexual development of every individual.
Learn Everything You Can About Sex,
Down Syndrome and Sexuality
Here are some additional resources for you and for your loved one with Down syndrome to learn more about sex, sexuality, protection and more.
Edited by Meriah Nichols
Toolkit
Healthy Relationships and Sexuality
Healthy Relationships and Sexuality (Easy Read)
Online Virtual Course on Sexuality Education
Stories from around the world
Maria Pia and Luca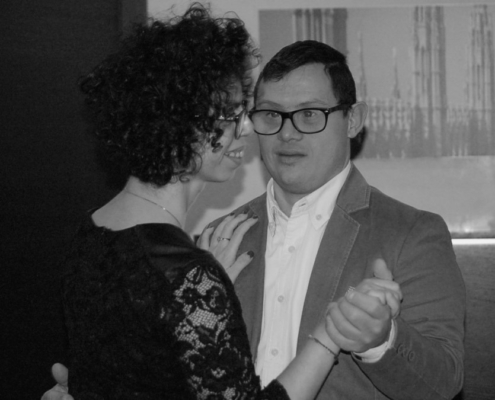 Maria Pia and Luca
Luca Mammana, 33, with Down's syndrome, and Maria Pia Mastracchio, 25, with Williams syndrome, met two years ago at a wedding and from a dance together they understood that they didn't want to leave each other anymore. She lives in Foggia, he lives in Palermo. With Covid, Luca and Maria Pia could not meet in person. Since then, they only want to see each other. They managed with great determination to arrange their new meeting in March 2022. Going together to Milan to the musical Notre Dame de Paris. Maria Pia explains "Now that I've seen him again I'm so happy, I want the meetings to be more frequent because life should be lived to the fullest." Luca says "I want to marry Maria Pia, have a wedding with the whole family. I love her".
Nino and Olivia
Nino and Olivia
Nino Genua is 23 years old, Olivia Watkins is 29 years old and they live in Bristol, UK. They have been a couple for seven years now. Nino and Olivia met at a sporting event in 2015, Nino asked Olivia out on a date, an invitation to a club night at their local youth club.
'For my life I wish to marry Olivia, live together, have a happy future,' Nino said. Olivia added: 'Our future is to get married and live together, we haven't planned anything but we have some ideas to realise. Love comes first'.
Tathi and Vinicius
Tathi and Vinicius
Tathi and Vinicius, they are both Brazilian, they are 34 and 37 years old and theirs is a great love story.
"Love is when you see trust and determination in each other's eyes. Love is more than the relationship between two people: It is being mature, responsible. I don't want to be distant from him anymore. We are getting married, and that is inspiring. I hope it will bring me and Vinicius wonderful things, as it does to any other couple."
Shona and David
Shona and David
Shona, 40, and her partner David, 46, have been a couple for a year now. David does not have Down Syndrome. They live in Australia.
Shona says: "We're already happy together so there's nothing to worry about".